What Documents Must a Widow Gather? It Sure Would Be Nice to Have a Checklist!
There is no shortage of well-intentioned people wanting to help the newly widowed: family, friends, neighbors, coworkers…the list is long. Each helper has their own idea of how to handle things and which issue to address first, second and third. Left unchecked, all this guidance, especially when it's coming from multiple people, can overwhelm the widow (and, yes, they are already overwhelmed!). One helper wants the widow to start making claims for life insurance and another tells her to apply for Social Security benefits right away. Within hours or days of the spouse's death, a helper convinces the widow to call the life insurance company or visit the local Social Security office. Yes, life insurance claims, Social Security all the other issues must be addressed, but some can wait, often for weeks or months. Some decisions, like an optimal Social Security claiming strategy, may require analysis and coordination. Certainly, there are time sensitive issues, but not all of them.
The first three days. In a separate post I discuss all of the issues and tasks, including who to contact, starting with the initial realization that a spouse or partner has died and the next 72 hours that follow. These immediate issues and tasks, including short-term financial issues, are assembled in an easy-to-use Immediate Checklist. If you haven't gone through the Immediate Checklist, I highly recommend you do so, even if it's been a while since your partner or spouse passed away (there may be steps in this checklist that you should still accomplish). After working through the Immediate Checklist, the widow can move into the next phase at her pace, while considering issues with time limits, to handle her medium-term and longer-term financial and legal affairs. It's this next phase which is the focus of today's post.
A new widow or widower might ask, what documents must I collect for my attorney, financial advisor, CPA, and anyone else needing information to help me through all of this? With that question, the widow or her helper jumps on the computer searching the World Wide Web for that very list. Over the last two decades, I've seen dozens of such lists created and made available online by professionals and those wanting to help a grieving widow. It's an honorable undertaking, but some of the available checklists are not very comprehensive or the author includes guidance that may create confusion or unnecessary anxiety about issues that aren't a priority, aren't time sensitive or require analysis and coordination with various financial, tax and legal professionals. Overwhelmed and dealing with grief, these tasks need to be broken down and kept simple for the widow.
The first step in answering questions such as, what do I do with this account, how do I make a claim on that insurance policy, and which option should I select for this pension or Social Security benefit, is gathering information. Let's first gather the original paperwork and most recent statements dealing with each account, policy, investment, credit card and piece of property. You will want to find your legal and official documents related to marriage, divorce, military service and estate planning. Don't forget tax returns, business documents and health insurance coverage. The list is long, but let's start with that list. If a document is missing or outdated, request a replacement or the latest information. Sometimes a decision on how to handle a specific investment, account or issue can't be made until you know the whole picture. Therefore, collecting all the documents first is an important step. 
The Widowed Community Document Organization Checklist ("Checklist") is a comprehensive 3-page checklist and a great place to start! The Checklist contains lists of documents organized in the following sections: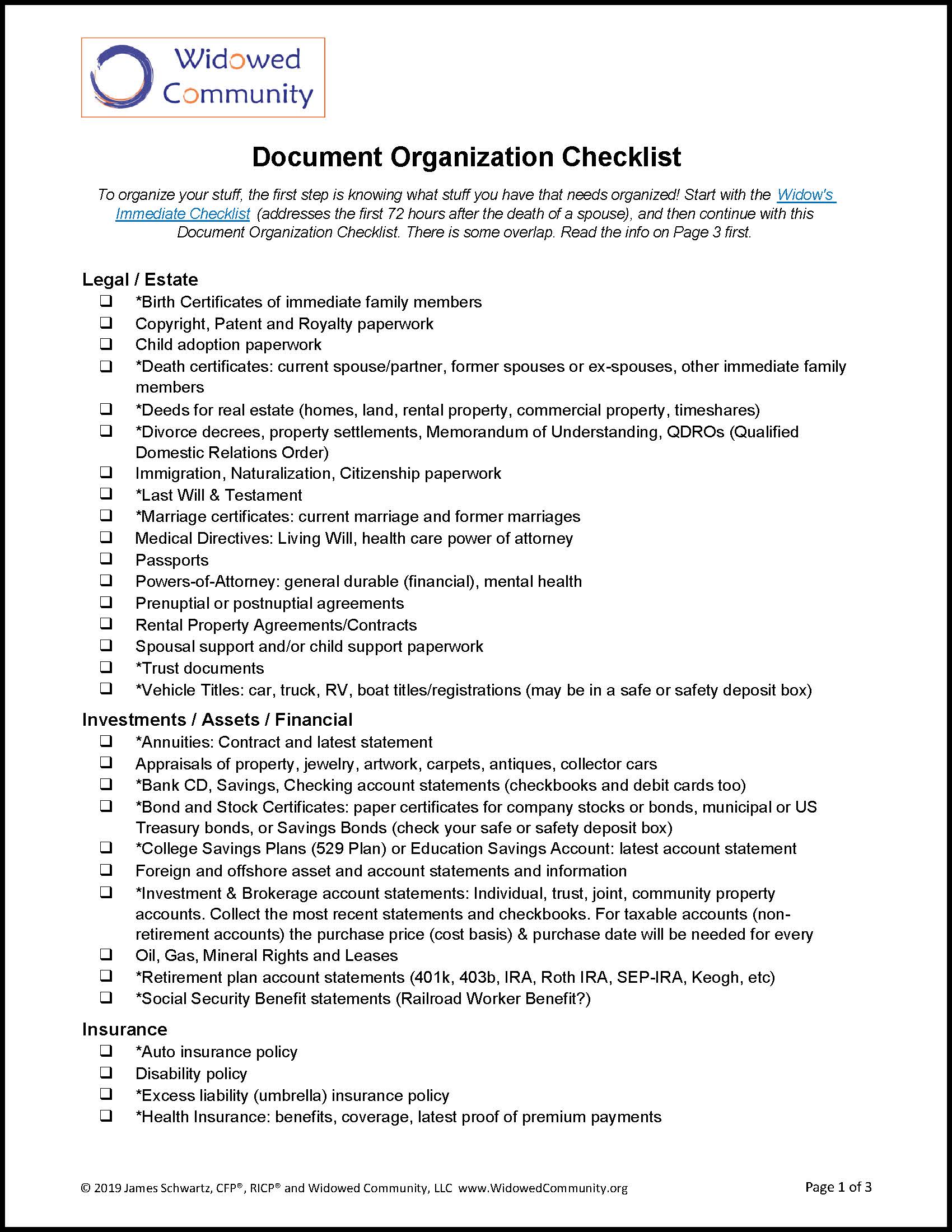 Legal/Estate
Investments/Assets/Financial
Insurance
Employment
Debt/Loans/Bills (Liabilities)
Tax
Business
General/Other
Not all documents may apply to your situation. If you don't own a business, the Business section is probably not needed. If your spouse was not in the military, they won't have a DD Form 214 (Military Discharge Record).
The most common issues and those considered as priority issues in each section are marked with an asterisk ("*"). Your situation might be different, so use your own judgement, or that of your professional advisor(s), to each section, document and issue when ranking your specific priorities.
Why must I collect all these documents? Here are four reasons to do so:
To secure and organize valuable and/or confidential information. Social Security numbers, account numbers and credit cards can be used to illegally obtain benefits, steal assets or charge debts, to name a few. Secure, organize and keep these documents safe.

To settle your spouse's financial, legal and tax affairs and to do it with minimal confusion and challenges that may arise. Without locating specific documents, challenges from other family members (children from a prior marriage?), for example, may create havoc and stress when you need it least. Having all the necessary documents on hand can help smooth certain aspects of the estate settlement process. Settling your spouse's estate may require the skills of an estate planning attorney as well as a tax advisor and financial planner.

To apply for income and insurance benefits and consolidate (simplify) accounts, assets and debts. CAVEAT: Please don't blindly apply for pension, Social Security (SS) and annuity benefits or start consolidating accounts or changing registrations/titles without fully understanding the financial impact of your decisions. Proper financial analysis by a professional financial planner (a fiduciary) is highly recommended.

Ultimately, to make sure you know where you stand financially (how to achieve and then maintain financial independence).
Hard-to-access information. You may not be able to gather certain documents, for example, from your spouse's employer, without first furnishing a Death Certificate. Certain companies, such as an online social networking company, may never give you access to your spouse's account. If you don't have User IDs, Passwords, PINs (Personal Identification Number) and answers to Security Questions, you may be out of luck accessing certain online accounts (see our Password Log document to start logging your own Log-in Credentials). Once the Social Security Administration (SSA) is notified of your spouse's death, their online SS account is no longer accessible and SS benefits information can only be obtained at your local SSA office.
Locating missing documents. If you know a certain account, investment or property exists, it's easy to track down needed documents. A more difficult challenge is when you are unaware that an insurance policy or investment account even exists. This is when good detective work might pay off and is the topic of an upcoming blog post. 
When analysis is beneficial? A more appropriate question is, when is analysis not beneficial!? Regarding legal decisions, estate settlement, trust and last will interpretations, account registration changes and beneficiary designations, they may all benefit from the expert analysis of an estate planning attorney. If Social Security or pension benefits are in your future, or you are dealing with inherited retirement accounts, financial analysis can show you beneficial options that may be worth tens or even hundreds of thousands of dollars in additional lifetime benefits. And when legal, tax, financial and insurance professionals coordinate, cooperate and collaborate with each other, results can often be better than if these professionals work independently.
Delegation. It's important to allow others to help you. Try to delegate the task of locating and gathering as many of these documents as possible. Trusted family members and friends can help make phone calls, go through drawers and boxes, make copies, scan, and mail documents to those who need them. Delegate!
Lessons Learned: What did we learn today about the Widowed Community Document Organization Checklist?  
Before searching for and collecting documents, go through the Immediate Checklist if you haven't.
Don't let people start directing you on how to handle financial, tax or legal issues until you collect your documents and talk with professional financial, tax and legal advisers.
The Document Organization Checklist works as a reminder for items, accounts, policies, benefits and issues that may not be on your radar. It's a great memory jogger. It's also going to save you time by not having to create your own document checklist.

Collecting (and securing) all your confidential financial, tax and legal documents and information may prevent someone else from using this information for their benefit (and your loss)
DISCLAIMER: All written content on this site is for information and education purposes only and is not specific advice for your situation. Opinions expressed herein are solely those of Widowed Community, LLC and the Widowed Community Financial Blog, unless otherwise specifically cited. Material presented is believed to be from reliable sources. We do not endorse any 3rd party comments or posts (3rd parties are those readers of The Blog who choose to submit comments).  All information or ideas provided should be discussed in detail with a qualified financial advisor, accountant or legal counsel prior to implementation.  See our Terms of Use for additional details regarding legal disclaimers, privacy policy, permissions & reprints and comment policy.  The FAQs page also contains some good information.

Jim Schwartz is a Scottsdale, AZ fee-only financial planner with an expertise and interest in financial planning and education for widows and widowers.