In 2010 Jim Schwartz, Senior Advisor at Strategic Wealth Advisors in Scottsdale, Arizona, noted that nearly half his clients were widowed. Many had discussed a desire to attend a peer-to-peer (widowed-to-widowed) grief support group but could not locate one. Jim's own exhaustive search for such a support group in the Phoenix area ended with the same results. He realized there might be a need for a local widowed-to-widowed grief support group as well other resources such as financial education. Widowed Community, LLC (formerly Widowed Community Education & Support Services) was founded in 2010 out of this realization.
Jim's research into the needs of the widowed community started with the reading of two books of almost identical titles. The first book, Widow to Widow: How the Bereaved Help Each Other, is authored by Dr. Phyllis R. Silverman, researcher and teacher. Dr. Silverman's research in understanding how the bereaved help each other led to her development of the peer-to-peer model for grief support groups.
The second book, Widow to Widow: Thoughtful, Practical Ideas for Rebuilding Your Life, was authored by Genevieve Davis Ginsburg, a counselor in Tucson. Genevieve lost her husband in 1977 and decided to start a peer-to-peer grief support group in Tucson. Her group grew into many groups in Tucson. Genevieve passed away in 1989 but her network of grief support groups is still operating in Tucson today.
In October 20
10, the current president of the Tucson grief support groups network helped Jim start the first widowed-to-widowed grief support group in Tempe, Arizona, part of the Phoenix metropolitan area. Jim facilitated this group the first year and later had several longer-term attendees step into the facilitator role.
This support group is organized through our page at Meetup.com. Over the years our Meetup group has grown to over 900 widows and widowers. More details on our support group is available on the Grief Support Groups page of this website.
Documenting the creation of the Tempe group was Jim's next project. From deciding on a location to running a group meeting and dealing with attendees having the wrong intentions for attending, Jim compiled his experience into a Starter Kit. The Kit includes a Facilitator's Guide, Frequently Asked Questions, worksheets, marketing materials, sample meeting agenda, and more. The Starter Kit is offered free and has been downloaded by over 1,000 people from all over the world wanting to start their own local Widowed-to-Widowed Grief Support Group.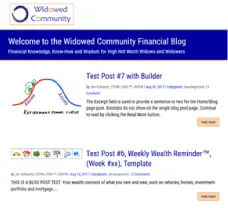 Jim's latest initiative is the Widowed Community Financial Blog. Years of working with and advising widows, widowers, and surviving partners has provided a wealth of experience and knowledge in this complicated financial arena. The blog will regularly provide stories and experiences around the financial aspects of losing a spouse or partner and the transition to managing these financial affairs.
If you have financial questions related to the death of your spouse or partner, need a one-time holistic financial plan, or are looking for a fee-only fiduciary financial planner/advisor with extensive experience working with widows and widowers, learn more about Jim's professional background and services.